TORR Model 120
Semi Automatic Hand Fed Pouch Filler
Fills Pouches with side seal mounted fill gland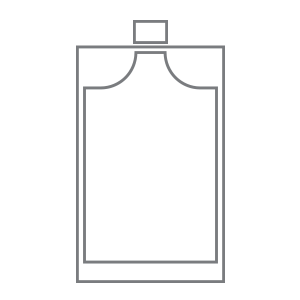 The TORR 120 Table Top filler is designed to fill Stand up pouches (SUP) pouches with 8mm through 28mm fill fitments in side seam from 0.187 to 3 liter capacity. The filler is a single head, manual filler. The operator loads the filler by inserting a pouch into the bag in-feed rack. The fill valve then moves down into the spout via air cylinder that is actuated by a sensor. Product is metered into the pouch.
Product measurement: 1 inch turbine flow meter is standard, +/- 0.5% accuracy by volume. The meter is constructed of FDA approved food grade acetyl plastic. An optional steam sterilizable stainless steel flow meter is available. Optional magnetic or mass meters also available for allowing hot filling of particulate products.
Product Contact surfaces: All piping is 316L stainless steel and 3A-approved plastics and flexible lines.
Utilities: Power -100-240VAC, 50-60Hz @ 5A. Compressed Air – 6 bar @ 50 l/m clean & dry. Nitrogen - Optional. 6 bar@30 l/m.
Performance: Dependent on operator dexterity and flow rate. Approx. 6 to 8 pouches per minute.
About the 120
The optional vacuum and nitrogen purge eliminates O2 in the pouch before the fill. It is automatic with timer settings at the operator screen. It also allow for a Nitrogen purge after the fill. This ensures low DO pickups. The optional in-feed rack allows the pouches to be moved to a cap station where the operator places the cap by hand and manually screws the cap on the pouch. A pneumatic capper is available as an option.
Filler Model Comparison
| Model | Pouch | Bag | Both | Purge | Rate |
| --- | --- | --- | --- | --- | --- |
| TORR 110 | | | | | 2-3 BPM |
| TORR 120 | | | | | 6-8 BPM |
| TORR 125 | | | | | 2-4 BPM |
Turbine Flow Meter
Fast accurate fills provide dramatically improved production speeds compared to the 100 filler.
Optional Vacuum and Nitrogen
Complete control of Dissolved Oxygen pickup during filling along with cleaner fills of bags and pouches.
Bag and Cap Tooling
(3) Three sizes of gripper tooling available to fit most bags and pouches.
Optional Magnetic or Mass Flow Meter
Upgrade to a magnetic flow meter for accurate fill weights and easy sanitation or upgrade to the mass flow meter for particulate products.
Please Call 1-530-247-6909 for Pricing & Additional Info